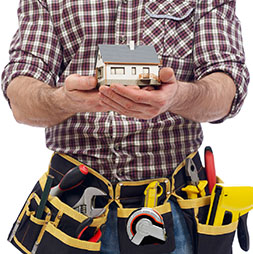 We at PAJ Handyman Services believe that our work does our advertising for us and a large proportion of our business comes via the old fashioned method of word of mouth recommendations from satisfied customers. We can offer an emergency service as well as planned work which is booked in advance. We can always try and make arrangements to assist when you really need us and squeeze jobs in on the same day as they are booked so it is always worth giving us a call to check availability.
Unlike most of our competitors we are more than happy to work Saturdays and Sundays and in the evenings where requested for planned works so you can continue with your daily routine. This service is offered at no additional premium rate costs and our normal charges apply. Unforeseen emergency jobs will have a nominal additional charge.
We agree specific times with you and we aim to arrive promptly. We are nearly always on time, but sometimes (particularly towards the end of the day) we might be a little late. But we will always call you well in advance to let you know our revised estimated arrival time.
The jobs we do generally range from a few hours to a number of days. Our view is that no job is too BIG or too small. We value your custom regardless and think that if we help you when you need us for something small you might just remember us when another job comes up.
Materials:
Materials are extra. Some of our customers use us purely as a labour service, but we are more than happy to fetch particular materials for you if needed. Our handymen carry a full range of tools to tackle a huge number of different jobs. They also carry a wide selection of small parts (screws, nails, wall plugs, plumbing connections and so forth).
The Team:
We employ general handymen, who can do a wide range of jobs, including all aspects of electrical wiring. Central heating installation and repairs are carried out by a registered GAS SAFE / CORGI engineer.
Payment:
In an attempt to keep our charges competitive we accept cash, cheques or can accept Bank transfers, this way we are not forced to pass on additional 'hidden' charges for card transactions